The Rwandan Adventure Continues – Day 2
The Rwandan Adventure Continues – Day Two
The day began early. The only thing planned, emphasis on planned, was preaching. The first service began at 7:30. The second service began at 9:00. There was time to grab a bottled water in between. Both services were animated in their own way. The first was in English, the second Kinyarwandan. 70 or so attended the first, 600 or more the second.
I preached on love. Go figure. It is the horse I am riding. Love transforms and it does so in any language. I watched as many wiped away tears as they felt the love of the Father afresh or perhaps for the first time. Husbands and fathers were challenged to love wife and children as God loves them, unconditionally. Loving by "provision" (food, clothing and shelter) is good but never ever enough. "If we don't know our children's highest aspirations and greatest fears, have we really loved them?"
The Kinyarwandan service lead pastor and Bishop Mbanda both followed up on my message. It was a sermon followed by two homilies (Latin for sermons). African worship, even Anglican worship, just rolls that way. It cannot be bound by time. Not the place for a clock watcher or someone who expects high efficiency.
As the people departed, countless many told us "I love you" in broken English. Little children leapt into my arms. A woman approached Bishop Mbanda and told him that her father looked her in the eyes and said for the first time ever, "I love you." The Bishop immediately understood the significance. Her father was known to be a difficult man, a hard man. The Bishop sought him out and told him what those words meant to his daughter. Understanding full well the change that just occurred, he exclaimed "I told her three times." The Bishop received a couple of texts during the day talking about the message. Both said, "I love you."
Indeed love transforms. A terribly broken relationship is being healed. And the Almighty granted me be a ringside seat to witness the blessed affair. What a privilege! What a joy!
Hat tip to the choirs, all four. That's right. Four choirs performed separately. If you want to see unbridled praise, this is the place to do it. The picture is a bit grainy but good enough. Click it on. Blow it up. I am guessing most have not seen so much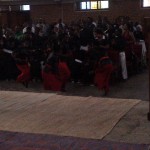 energy in a church service. They Rwandans have much to teach us. Chief among them is fire hot love of Jesus among a people where too often love has run cold.
More later on the refugee camp, active volcano and Congolese border visit, all of which fell in the category of "unplanned."