Gleanings from the Lectionary: A Spiritual Discipline for You?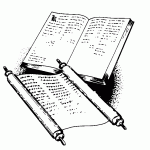 Many Anglicans use the Book of Common Prayer lectionary to read the bible devotionally. What is a lectionary? It is a schedule for reading the bible systematically, in our case over two years. Each day one reads an Old Testament lesson, one or more Psalms, a New Testament lesson and a Gospel lesson. It is akin to the one year bible with smaller daily bites so the same  objective is achieved in two years.
The  lectionary has been a part of my life for devotional reading since 1990. Of course I read almost daily for other purposes like general enlightenment, teaching and preaching. However, for personal devotions where I seek understanding that leads to transformation, I have been guided by it intensely for almost all of the last decade.
Recently I have tried to discipline myself to write a short reflection on just one of the daily passages four to five times per week. I then post the reflections to the Ancient Future Church website.
It occurs to me that the lectionary might be an aid to you as the Holy Spirit seeks to transform you into the likeness of the Son. If you do not read daily this may be the time and means to get started. If you already read daily, this may be a means of reflecting on the scriptures in a deeper way
I am proposing you join me in the daily readings. You will find them here: http://m1.bookofcommonprayer.net/daily_office_list.php. Once there click on the "daily office reading list" (as oppose to "lectionary" on this site). Then read the lessons. Then join me for the reflection at www.ancientfutureechurch.org. By posting a comment or question, you will be joining the entire Ancient Future Church community at large.
Advent begins a new year in the church's life. Is it time for a resolution that will further the likeness of Christ in you?